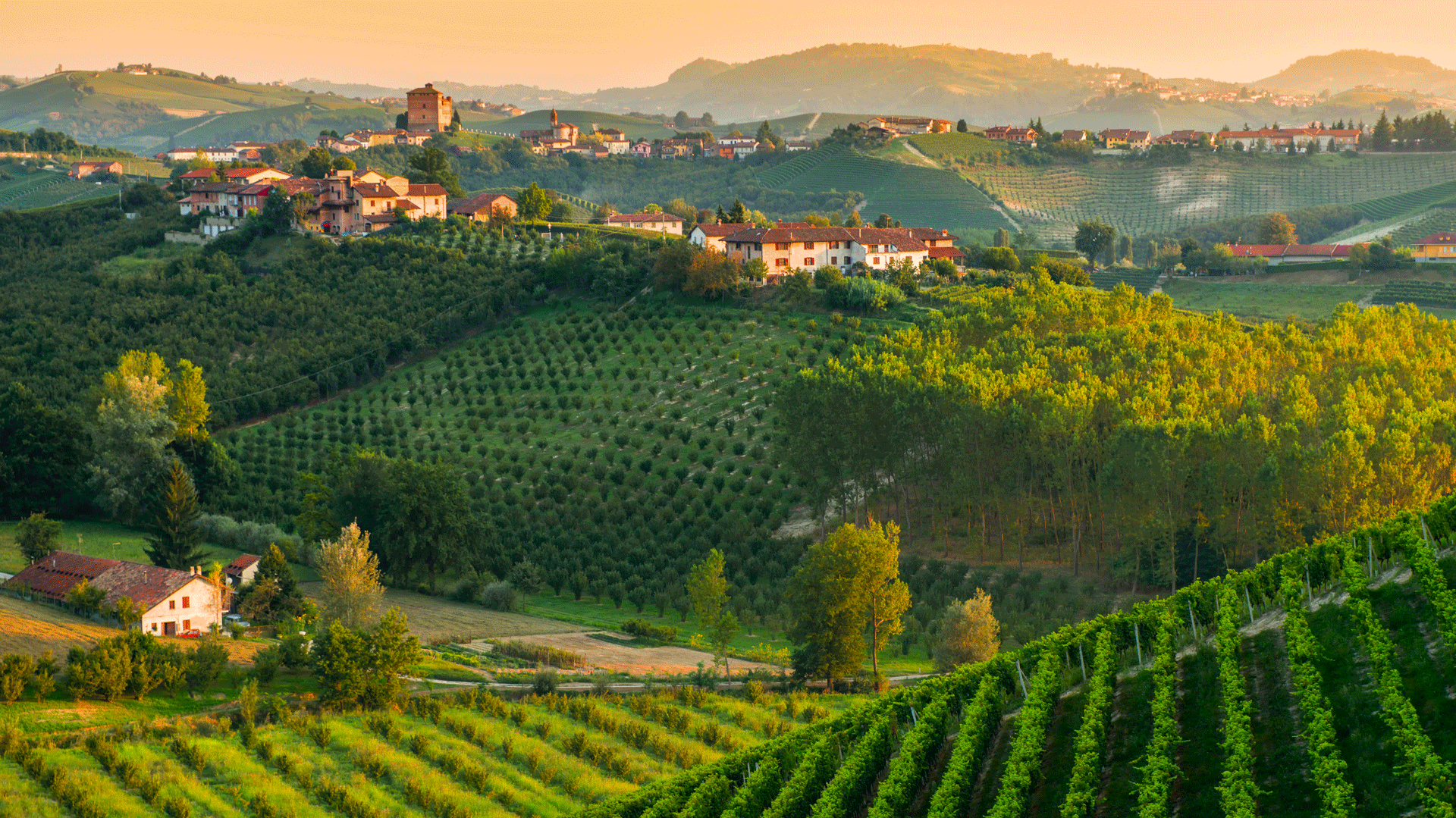 Piedmont/Piemonte
This month we are traveling to the land of castles, romantic hills covered in mist and quite possibly Italy's finest red wines! Piemonte, often described as "the Burgundy of Italy," is home to more DOC zones that any other Italian region, the two most notable and revered being Barolo and Barbaresco. But there is much more to this region that we can't wait to show you!
The region is often referred to as Piedmont or Piemonte and it is not uncommon to see it spelled both ways on labels, but in Italy, it is referred to as Piemonte (pee-ay-MON-tay) Piemonte translates to "at the foot of the mountains," referring to the breathtaking nearby Alps. Here, there are hot summers, misty autumns, and cold, foggy winters. The mountainous geographical contours and variations create vineyard sites with their own unique microclimates, with elevations ranging from 500 to 1150 feet.
While Piedmont is quite large, it does not produce Italy's largest quantity of wine since much of its land is too steep or cold for growing vines, however, it is at the top of quality production. For instance, nearly 20% of all its wines are at DOC or DOCG levels, a higher percentage than most other Italian regions. Piemonte wines are named mostly by varietal, except Barolo, Barbaresco and Gavi, which are named for the village from where the wines hail. If a district is added (such as Barbera d' Asti) it means the wines come from a limited area of superior quality. Nebbiolo from Piedmont is one of Italy's most important grapes, instrumental in creating some of Italy's most illustrious wines.
---
Major Grapes & Where They Grow
---
Nebbiolo:
The principal red wine grape of Piedmont and one of the greatest in all of Italy, Nebbiolo is capable of making one of the most age worthy wines in the world due to its high tannin structure. General flavors are dusty red cherry fruit, tar, tobacco and rose petals, yet because it's home to 13 different DOC or DOCG's, each with unique climate types, the differences between wines made in each town is astounding.
Both the DOCG awarded regions Barbaresco and Barolo are located near the city of Alba in the Apennines on south facing slopes and have played a major part in Nebbiolo's fame. The differences between the two are in the soil types (limestone vs. sandstone) and climate variances. Barbaresco grapes grow in a limestone soil and the region has less of a diurnal temperate shift making the wines lighter with less tannin then the masculine Barolo.
But Barolo and Barberesco are not the only Nebbiolo wines available. One can find excellent Nebbiolo-based wines from all around Piedmont at affordable, everyday prices. Look for wines labeled Langhe, the region that contains both Barolo and Barbaresco, but includes wines made from 'declassified' sites. They are lighter and less tannic and a juicy treat as an everyday wine.
---
Barbera:
When young, most Barbera wines have a bright-red cherry character, distinguished from Nebbiolo by softer tannins and a certain roundness. When matured in barrel and allowed to age in bottle for a few years, this turns to a denser, sour-cherry note. Look for Barbera d'Asti and Barbera d'Alba on the label for the best representation of the grape.
Dolcetto:
Dolcetto, meaning "little sweet one" is neither sweet, nor little. The characteristics of the wine are cheerful dark berry fruit with structure coming from tannins and a distinct spicy quality. As the wines are not generally designed for long-term cellaring, they should be consumed within three or four years of the vintage.
Muscat:
If you haven't tried a Muscat from the Asti region, you don't know what the ancient grape variety is capable of. Made in two different styles, spumante (a fully bubbly sparkler) and frizzante (a barely bubbly spritz) with flavors of peaches, white flowers and honeysuckle.
Other Varieties:
These grapes are the most commonly planted but there are so many more esoteric varieties that are important to try. Here are just a few examples:
• Freisa – A charming light and aromatic red with dusty, dried strawberry fruits.
• Brachetto – Traditionally made into sweet, fizzy wines that taste like roses and raspberries.
• Cortese – More famous than the grape is the Gavi region where the grape is grown. Lemon and green tree fruits, minerals and floral tones, made in a dry style with a snappy acidity.
• Arneis – The white grape of the Roero DOCG makes a mouth-filling wine with floral and pit fruit tones.