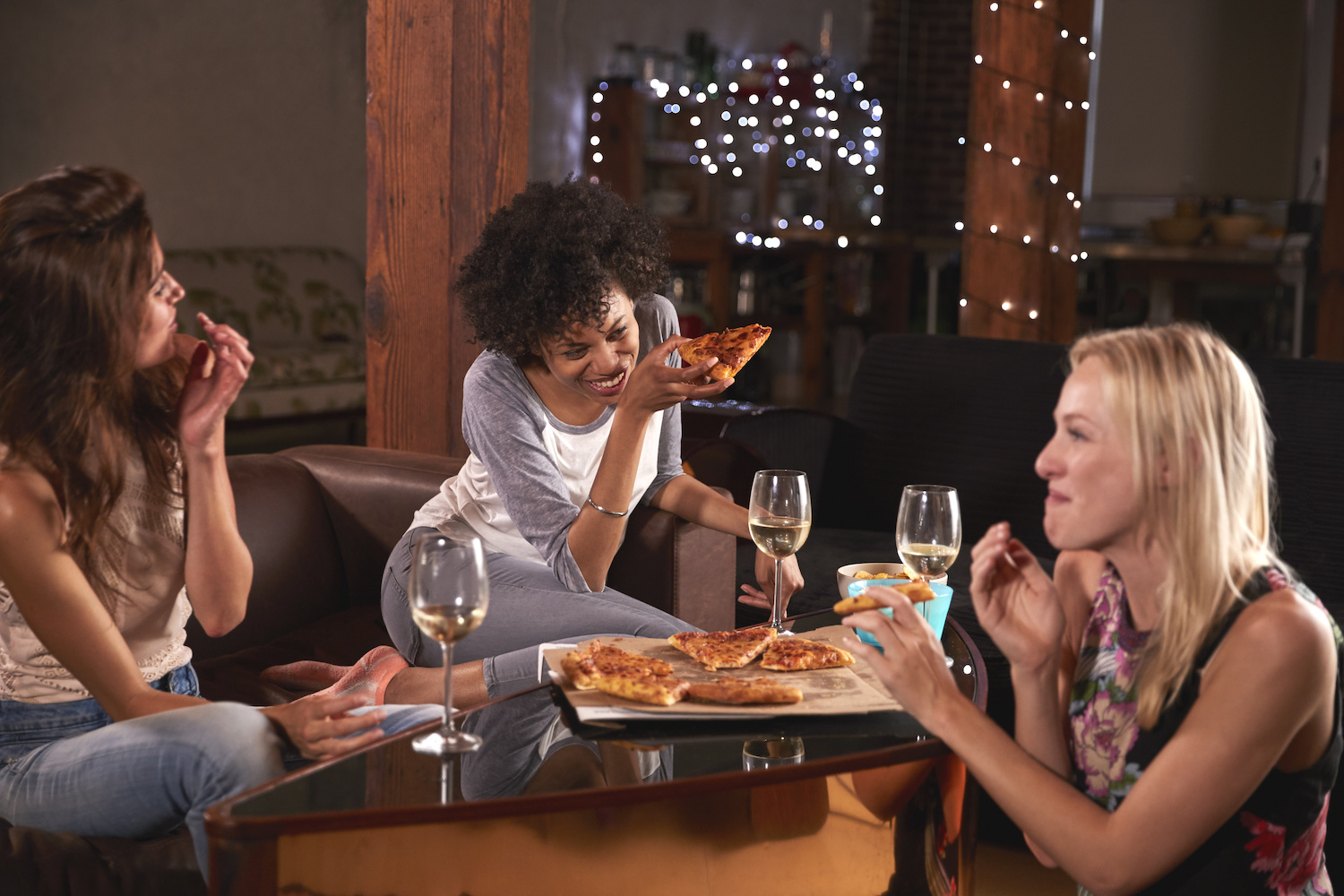 Pizza Wines
How do you make pizza- a near perfect food- even better? Wine, of course! What you sip on with your pizza can be determined by the toppings. From meat lovers, to BBQ chicken, to Hawaiian pineapple and ham – there are a multitude of wines that will match.
Cheese Pizza: For the pizza minimalist, a slice of plain cheese is a classic comfort food. The red sauce will be the main focus point when wine pairing because of the acidity and intense flavor. You don't need to get too complicated – a wine that is simple and pure will complement the basic slice of pizza just fine.
Suggestions: Montepulciano d' Abruzzo, Côtes du Rhone (GSM blend), Pinot Noir,
Barbera d'Alba
Pepperoni Pizza: The very strong flavor of cured beef and pork with a variety of spices demands a strong wine with intense flavors that balance the saltiness of the pepperoni. Sangiovese (the main varietal of Chianti) is a safe option. The grape has enough acidity to match the sauce and curb the saltiness, with enough tannins to bond to the fat of the pepperoni.
Suggestions: Sangiovese, Shiraz, Cabernet Franc, Lambrusco, Primitivo
Margherita Pizza: The aromatic flavors of basil with the creaminess of buffalo mozzarella can be your starting point for this pairing. A rose will work extremely well; a bigger, softer style from southern Italy should do the trick. If you're more of red wine drinker, stick to a lighter wine.
Suggestions: Garnacha, Dry Rose, Pinot Grigio, Vernaccia, Frappato
Meat Lover's Pizza: Are you a meat lover? If you are, chances are you enjoy a big, bold wine as well, so luckily they go great together. Pizza piled with sausage, pepperoni, and hamburger begs for a wine with some heft. A spicy Syrah has the flavor and the tannins to handle the mega dose of meat.
Suggestions: Syrah/Shiraz, Pinotage, Cabernet Sauvignon, Zinfandel, Merlot
Hawaiian Pizza: A salty sweet combo of Canadian bacon and pineapple paired with an off-dry white wine is a super satisfying pairing. A German Riesling with a touch of residual sugar will match the sweetness of the pineapple, while the acid in wine will cut through the richness of cheese and fat on the ham. Not a fan of sweet wines, try with a fruitier Zinfandel.
Suggestions: Riesling (dry or with some sweetness), Vouvray, Zinfandel, Moscato d'Asti
White Pizza: Switching things up by swapping out the red sauce for a white sauce opens you up to "cream" loving wines such as a Chardonnay that has gone through malolactic fermentation. If you are looking for an excuse to drink Champagne (and when are we not?) the bubbles will also hold up well to this lighter style of pizza.
Suggestions: Chardonnay, Champagne, Sauvignon Blanc, Pinot Gris, Pinot Noir
Mushroom Pizza: Umami is the fifth basic taste after sweet, salty, bitter and sour. Derived from the Japanese word umai, meaning "delicious," mushroom is a high source of umami with its savory, rich, and earthy flavors. Look for these same characteristics in your wine pairing.
Suggestions: Nebbiolo, Red Burgundy or other Pinot Noir, Chardonnay
BBQ Chicken Pizza: A modern favorite! Depending on the style, barbecue sauce can range from tangy and spicy, to sweet and spicy. On pizza it leans toward the latter. They key here is to pick a fruit driven, medium to full-bodied wine with a bright finish and possibly a hint of smoke.
Suggestions: Malbec, California Pinot, Touriga Nacional, Shiraz