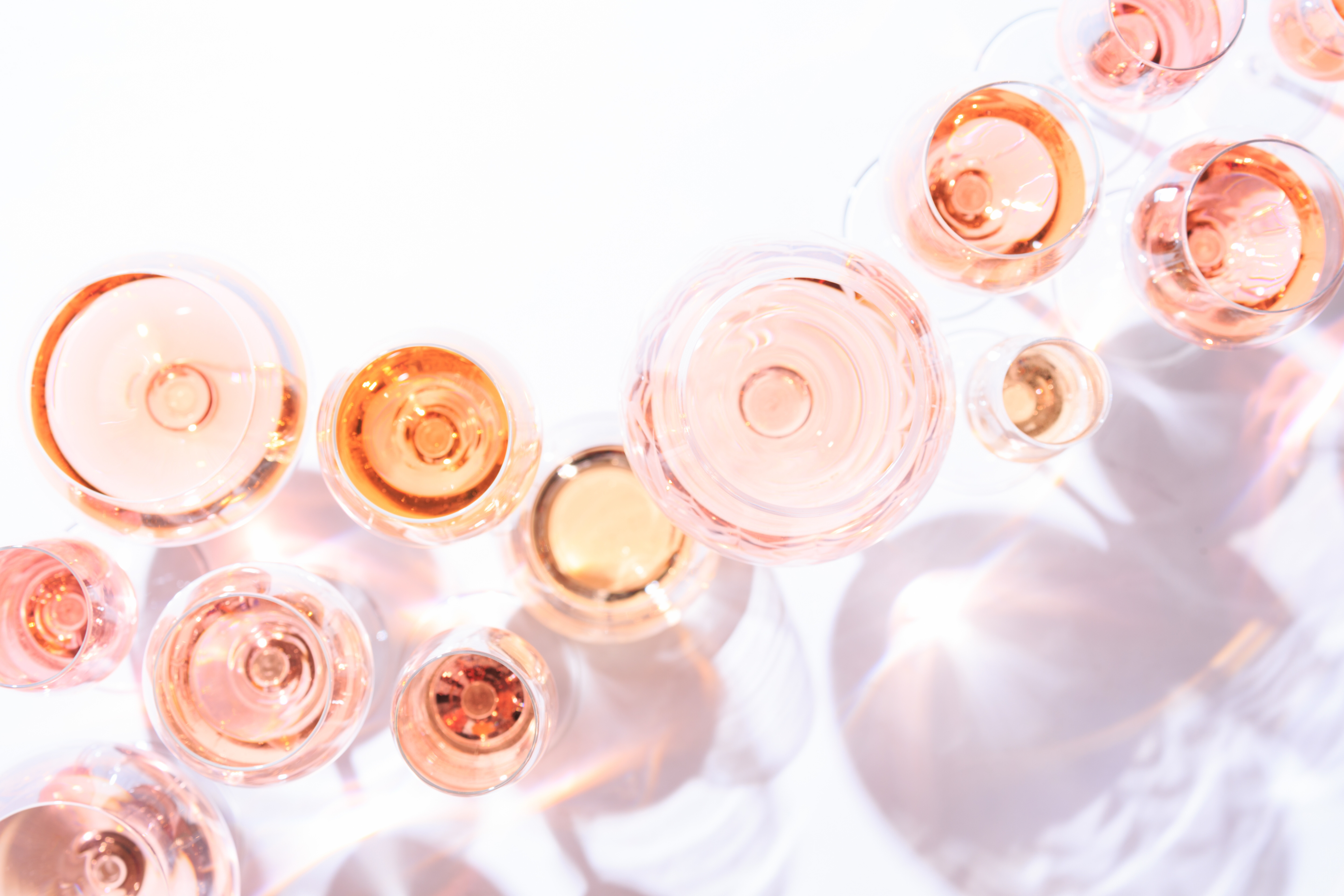 Rosé
Over the course of the last ten years, wine lovers around the world have changed the way they look at rosé. No longer does a pink beverage attract a sideways glance from neighboring sippers. All "blush" wine was thought to be sticky sweet White Zinfandel or fruity wine coolers or umbrella drinks, but American consumers have finally come to know the joys of dry, refreshing, endlessly pleasurable pink wines from here and abroad!
Not, by any means, a new phenomenon, the tradition of rosé stems from the south of France where the relatively inexpensive refreshers beat the Mediterranean heat with their bright acidity, delicate fruit and hints of herbs. For many, they offer the best of both worlds, a perfect compromise between a crispy white and a lighter red.
Rosés will vary based on grape variety, region, and winemaking style, but they'll typically have notes of fruit like strawberries, raspberries, and cherries. Light to medium-bodied, they can also range in levels of minerality, acidity, floral and herbal qualities, and can be anywhere from bone dry to sweet and everywhere in between (the in-between-ers are called "off-dry").
Typically, winemakers do not use oak to preserve the freshness of the wine and they can be produced anywhere from any grape variety. The most common grapes used worldwide, however, are Grenache, Syrah, Nebbiolo, and Pinot Noir.
How Rosé is Made:
They just grow pink grapes, right? Well… sometimes. But there are a few common ways rose is made, including skin contact/crush, saignée, and blending.
Skin Contact or Crush is when red grapes are crushed and the juice is left in contact with the skins for just a few hours, as opposed to the few days that red wines require. After extracting just enough color and flavor (depending on the winemaker's wishes), the skins are removed and fermentation continues.
Saignée is the french term for "bleeding." Because pigment is actually a solid, it will settle, creating a more concentrated and tannic red topped by lovely pink juice. Removing the juice does two things: makes the intended red wine bolder and more richly colored, but it also means you get a fantastic rose on top of it. A two-for-one special.
Blending embraces the simple equation of white + red = pink. It's a matter of blending a small amount of finished red wine to a finished white wine, a practice that used to make rose Champagne, but it also is occasionally used for still rosés as well.
Where Rosé is Made:
France – Rosés are particularly common in the warm regions of Southern France but are made in the Champagne region in northern France as well. The most prominent rose producing regions are Provence, the Rhone Valley (where the village of Tavel is famous for its Rosés), and the Languedoc. The most common grapes used are Grenache, Syrah, Cinsault, and Mouredre.
Spain – In Spain, rosado of Garnacha is popular in the warmer region of Campo de Borja; some rosado Cavas (sparkling wines) are produced in the Penedes region; those from the famous region of Rioja are made from Tempranillo, Mazuelo, and Garnacha, often times with a little white grape, Viura, blended in.
Italy – Central Italy produces Rosatos out of the grapes Montepulciano and Sangiovese. In southern Italy expect to find hearty versions from Calabira's Gaglioppo grape and beautiful expressions from Puglia utilizing Primitivo and Aglianco.
New World – California, Washington State, Oregon, Australia, South Africa, New Zealand, Chile, and Argentina all make rosés with the grapes most prominently grown in their climates. Since the method doesn't depend on any particular variety, terroir, or style, you can find them virtually everywhere, made from almost every grape!